---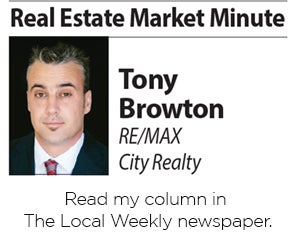 In an interview with Yahoo Finance Canada, Benjamin Tal, deputy chief economist at CIBC Capital Markets, had the following to say about Canada's real estate market:
"The way I see it the housing market is basically frozen... no buyers and no sellers. That in a way will limit or even eliminate any notable downward risk to prices. Simply the number of sales will go down dramatically."
IN A HOLDING PATTERN
We typically talk about the real estate market being a buyer's market, a seller's market, or a balanced market. Our quarantined COVID-19 world has introduced a fourth type of market: a market that's in stasis.
If you were thinking of selling this spring, my advice is to change your plans. Viewings are difficult, open houses have been cancelled, and it may be challenging to get professionals like home inspectors or appraisers to visit a property. Even appropriately marketing a home is near impossible; my photographer and videographer have suspended operation indefinitely. This means no fancy photos for buyers to swoon over and no video to differentiate your property from the competition.
SELLERS SHOULD EXPECT LOWBALL OFFERS
Sellers that insist on listing their homes need to be ready to accept substantially less than they would have even a few weeks ago. Buyers have evaporated and the ones that are out there are expecting BIG discounts. Sellers should prepare themselves to see insultingly low offers in the weeks and months to come.


MORTGAGE RATES INCREASING
It's a difficult time for buyers, too. Employment may be uncertain which could affect their ability to qualify for financing. And even if they can still be approved for a mortgage, Canadian mortgage rates have actually INCREASED despite big rate cuts by the Bank of Canada.
"The costs of funds for banks is skyrocketing and bank earnings are plunging," said Sherry Cooper, chief economist at Dominion Lending Centers. "Every single business they have ever loaned to is subject to a massive decline in revenues, and therefore their own revenues are going down because nobody is taking out new business with banks except to extend debt."
Rob McLister, founder of mortgage comparison website RateSpy.com, told BNNBloomberg that discounts on variable rate mortgages have decreased and five-year fixed rates are up compared to the end of February. 
HOW TO HANDLE A REAL ESTATE EMERGENCY
So, what do you do if you find yourself in the midst of a "real estate emergency," and your hand is forced? What if you absolutely, positively, no question about it, MUST sell your home in the immediate future? Call me and let me know about your situation. We'll either figure out how you can delay taking action or formulate an aggressive plan that gets you moving ASAP.
Real estate aside, remember to take care of yourself and your family. Be strict about your social distancing, wash your hands for at least 20 seconds, and occasionally take a break from the news and do something that'll make you smile.
Hang in there and call me if you need anything.
Tony Browton - TrueBlueRealty.ca
Personal Real Estate Corporation
Re/Max City Realty (Gibsons)
Mobile: 604-418-2695
Phone: 604-886-2670
Fax: 604-439-2299
Toll Free: 1-800-986-2670