This post was written using a transcript from Tony's February 2023 podcast. It's been edited for clarity.
HOW BUSY WAS JANUARY 2023 ON THE SUNSHINE COAST, BC?
PAUL:
 We're just coming out of a quiet holiday season, and things by my eye are maybe picking up a little bit on the Sunshine Coast. How busy was January compared to December?
TONY: 
December saw a lot of sellers taking listings off the market. Obviously, after about the 17th of December, there's not a lot of people doing showings. December was busy, not with sales, but with people taking stuff off the market. 
TONY:
 Things picked up a bit in January. There seemed to be more buyers. People that actually HAVE to buy or are relocating are actually pulling the trigger on stuff. Properties that are getting the most action are priced sharply. Sellers need to be priced ahead of the market as we're seeing a ton of inventory come back on.
TONY:
 I think the number of Sunshine Coast listings in December dropped to about 80. And I think we're backup to about 200 active listings now. So, we're seeing a ton of listings come on the market. I think sellers understand that waiting for spring isn't necessarily going to do them any favors, so they're listing now. 
TONY: 
The Sunshine Coast market is relatively busy. We're starting to see things start to happen. It's definitely night and day from December and January of this year is slow compared to January of last year. Last year, homes were flying off the shelf, but in January 2023, our market was just starting to ramp up again.
WHAT DO SELLERS WANT TO KNOW?
PAUL: 
Before we sat down, you were telling me you'd been on some listing presentations in January. What questions are potential sellers asking you at these listing presentations?
TONY:
 It varies from listing to listing. Everyone's motivation is different. But in general, I'd say, the biggest question I get is, "Where are the buyers coming from?" Would-be sellers also want to know how I market into those areas. Sellers understand that in this market, there's two things that sell homes. One's exposure, the other one's price.
TONY: 
Sellers I talk with are very keen on making sure that their home gets the exposure that it needs. If they get that exposure, then they're going to get the top price. If they list it high and don't get the exposure, then they're not going to sell. They're going to chase the market down. And in a market like this where values are dropping 2% to 3% per month for the foreseeable future, you want to sell now and not wait.
WHAT OTHER REALTORS HAVE TO SAY
PAUL:
 What kind of things did you hear from other Realtors about the January market?
TONY: 
Most of the Realtors that I talk to agree with me that things are starting to pick up a little bit. It's still slow year-over-year, but there ARE buyers out there that are ready to buy. They're just not going to pull the trigger unless they see something that's priced appropriately for the market.
TONY: 
There are still a lot of sellers that are hanging on, looking at their tax assessments (which is a generalization of the value of their property from last July), and thinking that they're going to get that same amount now. Some of the agents working with them are trying to educate their sellers to be realistic about the current market. 
TONY:
 The collective conversations I have with my peers helps me to get a good, up to date grasp on the market. That's where I draw my information from, as well as statistics.
MORTGAGE BROKER VS BANK VS CREDIT UNION
PAUL:
 One of the things you've mentioned before is that potential buyers really need to go out and get pre-approved. Is there a difference between getting pre-approved with a mortgage broker or a bank? Is one better than the other, and which one would you recommend?
TONY: 
I recommend an independent mortgage broker that has no affiliation with a bank, but you can also get mortgage brokers that do have affiliations with specific banks. But any mortgage professional that can shop the market and make sure that you're getting the best rate, is who I'd recommend.
TONY: 
A lot of that were pre-approved last year need to realize that a lot has changed in the mortgage market. Some buyers don't necessarily understand how the increases in interest rates are going to have an impact on what they're pre-approved for. Rates increases have had a major impact. The increase in interest rates that we've seen is very much limiting the amount people can qualify for. A lot of deals recently, and I strongly anticipate moving forward, are going to fall apart because buyers will be writing offers when they're not fully up-to-date on what they're actually pre-approved for in this current market. Buyers need current mortgage approvals to have their ducks in a row.
TONY: 
And if buyers haven't been recently pre-approved, they end up missing out on their dream property and wasting everybody's time. And as real estate agents, it's really important that we make sure buyers are aware of this. And if buyers aren't working with a mortgage broker, we recommend they talk to one to make sure that they're shopping in the right price range. 
TONY: 
And just because you speak to a mortgage broker, it doesn't mean that you can't also talk to your bank, as well. In my experience, when a mortgage comes up for renewal, a bank will offer a homeowner a rate, and the homeowner just accepts said rate without checking to see if it's competitive.
TONY: 
Instead of immediately accepting your bank's renewal rate, you could contact a mortgage broker to see what they can do for you. Once you get a current, competitive rate from the mortgage broker, take that number to your representative at your bank and see what they have to say. Ask them if they'll beat that rate. 
TONY: 
I would argue that, invariably, the first rate the bank rate gives you probably isn't its best rate. So, it's worth going through this exercise, with a mortgage broker to make sure you're getting the right mortgage product. You're under no obligation to stick with your existing bank. And to be honest, the days of knowing your bank manager and having a relationship with that branch is gone, right? You're just a number to most banks. There's very little personal connection there.
TONY: 
So, you may as well go to an outside advisor like a mortgage broker and ask them to check what's in your best interest in that financial world. That's why mortgage brokers exist, and that's why there are so many of them and they're flourishing.
TONY: 
The other lender potential Sunshine Coast home buyers want to consider is the Sunshine Coast Credit Union. I mean, a lot of people on the Coast here have accounts with them, and the SCCU has its own mortgage specialists. So, that's another option. When dealing with a community based credit union, there's potentially a little bit more leeway compared to a large bank or even a mortgage broker.
TONY:
 You do have a lot of resources on the Sunshine Coast, some excellent mortgage brokers. If you want a referral, just reach out and I can provide you with a short list. Or just talk to your current real estate agent, and odds are, they're going to have a relationship with a mortgage broker that knows what they're doing.
TONY'S LISTINGS FOR FEBRUARY 2023
727 GOWER POINT ROAD, GIBSONS, BC
TONY: 
I have one nice waterfront coming on. 727 Gower Point Road, which is in the Bay Area, near Franklin Road. Beautiful views. It's a real gem, and it's coming on at a price point that acknowledges the current state of affairs in the market.
---
1824 & 1830 HANBURY ROAD, ROBERTS CREEK, BC
TONY:
 I have two beautiful new builds on Hanbury Road in Roberts Creek. They're absolutely gorgeous. I think each one is just over two acres. Rancher style, single level. Nice and sunny, which is sometimes rare for a property in Roberts Creek. 
---
1-815 NORTH ROAD, GIBSONS, BC
TONY:
 I've got a really nice two bed, one bath unit on North Road in Gibsons. It had a substantial kitchen remodel. The seller's motivated to sell and it's priced way below tax assessment. That one's set up for a buyer to know that if they buy now, they're not going to be thinking they lost money.
✅ This was a 55+ complex however, the strata recently removed that age restriction. Anyone of any age can now own and/or live in this complex.
---
2-5471 SECRET COVE ROAD, SECRET COVE, BC
TONY: 
I recently listed a beautiful property in Secret Cove Mews which overlooks Secret Cove. It's a recreational spot. Nice, big, standalone townhouse, which to me is the best of both worlds. You've got your own detached home, and you don't have to worry about any yard or anything. That's all done by the strata. And if you want to go for a walk, you're near Secret Cove Marina. I think that marina accommodates up to 140' boats. 
---
302 SHOAL LOOKOUT, GIBSONS, BC
TONY: 
And I have a big, beautiful, waterfront lot on Shoal Lookout. There's potential to build stairs down to the ocean. Two of the homes with the highest assessed value in Gibsons are on that same street, which is one of the most prestigious neighborhoods on the entire Sunshine Coast. The sellers have done about $150,000 worth of site work. Their situation's changed and they're not going to move forward with that property but that's a huge opportunity for someone else.
TONY: 
Typically, when looking to buy on the Bluff, you're either looking at a new build or an older home that needs some work. Buyers might look at existing homes, trying to decide if they're going to renovate and quite often, they decide they'll knock the current home down and build new. 
TONY: 
But 302 Shoal Lookout has already had all its site work done. It's completely ready to go. It's waterfront and you're not going to have the expense or aggravation of removing old construction, dealing with asbestos, smashing up a foundation, repositioning where you want to build your home, that kind of thing. You've got a beautiful raw bit of land, which I think is the only waterfront bare land that's available in Gibsons. 
CALL TONY TODAY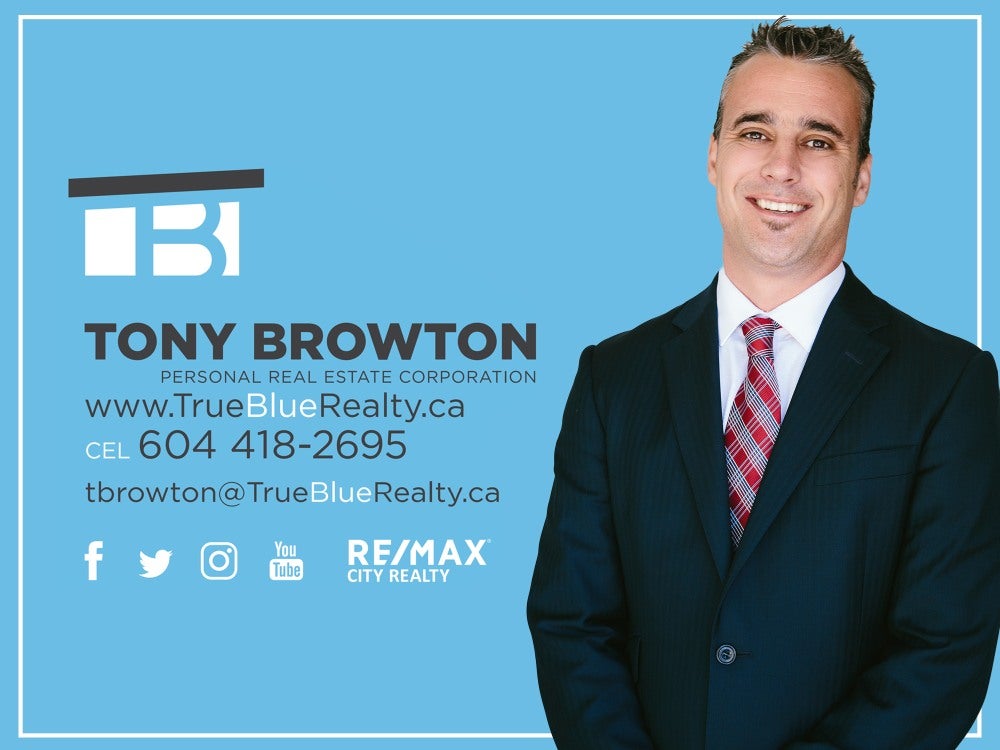 If you're not already working with an agent, call me when you're ready to buy or sell and I'll guide you through the busy and competitive real estate market on BC's BEAUTIFUL Sunshine Coast.
Tony Browton - 
TrueBlueRealty.ca
Personal Real Estate Corporation
RE/MAX City Realty (Gibsons)
Mobile: 604-418-2695
Email: 
Click here to email Tony
⚠️ 
DISCLAIMER:
 This blogpost is not intended to cause or induce breach of any existing agency agreement.