This post was written using a transcript from Tony's June 2023 podcast. It's been edited for clarity.
TONY:
Growing up a self-professed horse girl on the Sunshine Coast, Ashleigh Tuhkala operates Goldmine Quarter Horses in Gibsons, BC. She's also a Realtor with RE/MAX City Realty in Gibsons, and most recently she stars in CTV's hit new reality show, Farming for Love. Ashleigh, thanks very much for fitting us into your busy schedule.
ASHLEIGH:
Thanks for having me here, Tony.
What is Farming for Love?
TONY:
For people that haven't heard of Farming For Love, can you explain what the premise of the show is?
ASHLEIGH:
Farming For Love's based off of Farmer Wants a Wife over in Australia and the UK. And it's a really popular show. But it's not just popular, it's successful in how many matches that actually result from the show.
TONY:
Relationships continue afterwards?
ASHLEIGH:
Relationships, marriages, and kids. Something like 190 marriages have come from this franchise and like 400 kids. It's crazy. So Farming For Love is the first time it's in Canada, English-speaking.
TONY:
But they've done it in French?
ASHLEIGH:
Quebec has a version.
TONY:
(
joking
) It's called Les Farming For...?
ASHLEIGH:
It's Love in the Meadow, but in French.
ASHLEIGH:
What happens on the show is they have five farmers. I'm one of the farmers. And for Farming For Love, we're all located in BC, but the daters are from anywhere across Canada. And they match us with daters and they come to our farm and we just kind of live life on the farm, see if they can hack it and the daily stuff that happens. And we go on fun dates and then see if there's a match.
Getting cast on the show
TONY:
So to use some farming vernacular, how'd you get roped into doing this?
ASHLEIGH:
So our friend, Rachel Dempster, saw the casting call and sent it my way and kind of pushed me to doing it a little bit because I was like, "I don't know, I'm pretty happy single." And she's like, "No, you never know, just apply." So I did and they were like, "Yeah, that sounds great." And I loved the premise of it and that I would be a farmer and I'd be in that seat versus the dater seat, which is cool, and that it'd be on the farm.
TONY:
Did you grow up on a farm or a ranch or how'd you get into being a farmer?
ASHLEIGH:
When I was a kid, I had a horse. I lived in Roberts Creek and had a horse in my backyard. Then we could just ride anywhere through the trails and down the road and it was pretty cool that way. And as I got older, I got into competition, and then the opportunity came up where I could just run and manage a barn.
TONY:
What surprised you about being on Farming For Love?
ASHLEIGH:
I didn't expect how easy it would feel. I was worried a little bit about being maybe in front of the cameras, but I think through the whole thing I stuck to myself. Everything was just easy.
Was it fun being on Farming for Love?
TONY:
Did they shoot right on your ranch or did you have to go somewhere else to shoot? Where did most of the scenes take place?
ASHLEIGH:
Most of the filming was done on the farm. We had a couple events where we'd all get together. But you'll see on the first episode when, in the trailer even where we're all as a group.
TONY:
Without getting into any spoilers, was being on Farming For Love a good experience for you? Did you enjoy it? Was it fun?
ASHLEIGH:
Yeah, it was super fun. I enjoyed it quite a bit. That's the most dating I've ever done.
TONY:
In a short period of time.
ASHLEIGH:
In even a long period of time, that's the most dating. So it was just a learning experience that way. But I feel really good. I feel better coming out of it.
Showcasing the Sunshine Coast
TONY:
And do you feel like you were a good ambassador for the Sunshine Coast? Did you enjoy showing off the Coast?
ASHLEIGH:
Yeah, you'll definitely see the Sunshine Coast quite a bit. I haven't seen it yet, but the Coast I feel like will get showcased very nicely. It was cool to show off the hometown.
Horse riding program
TONY:
I've been watching just knowing that you were coming on and it's been a while kind of thing where I've been looking forward to having you on. I've kind of been on your socials and watching stuff. And recently, I saw there's some of your "barn kids," you call them, have come back and they've grown up and they're back to visit. So how long have you been teaching kids how to ride?
ASHLEIGH:
I've been teaching kids for the last 19 years.
TONY:
What age normally do they start?
ASHLEIGH:
Five. Sometimes I get the little tiny tots. But then it's cool, a lot of the kids 15 years ago, they come back and they've got kids. But I feel like I'm still the same age that they were, but they're grown up and have children, but I still feel younger than them.
TONY:
That's funny. Why don't you tell us more about how if someone wanted to get their kids into Western riding or working with quarter horses, how would they do that?
ASHLEIGH:
So we've got a few different programs. We've got kids camps and startup lessons for toddlers and kids upwards and then regular lessons. And then we just start them where they're having fun and building confidence and then go from there with whatever goals they want to set.
TONY:
It's kind of the same sort of principle as I guess getting people involved in other types of sport, whether it's track or team sport or even other sort of martial arts, structured events, that kind of thing. So it kind of keeps kids kind of working with and learning good principles and good work ethic and that kind of stuff.
ASHLEIGH:
Totally. And learning their own body strength and confidence.
TONY:
Do they ever get into competitions? 
ASHLEIGH:
 Right now there's limited opportunities on the Coast for events. We're looking at hosting more barrel races at the barn and stuff to get...
TONY:
Do people ever sponsor those events?
ASHLEIGH:
I think down the road we'll have sponsorship opportunities for when we host events and we can announce it and have banners up on the walls.
TONY:
Do you have a website?
Ashleigh is also a Realtor
TONY:
You're also
a Realtor on the Sunshine Coast
here. Did you take some time off when you were filming Farming For Love and now you're getting back into it or how did that work?
ASHLEIGH:
Yeah, I definitely had to take time off. I was going to try and maybe juggle the two, but I couldn't commit to meeting anybody.
TONY:
(
teasing
) Unless you were dating them.
ASHLEIGH:
(
laughing
)
Not "meeting!"
TONY:
That'd be unprofessional.
ASHLEIGH:
That would be very unprofessional across the board. 
TONY:
Realty-ing For Love.
ASHLEIGH:
Spinoff series? I definitely had to take time off real estate and just getting back into it now.
Watch Farming for Love on CTV
TONY:
Farming For Love sees five Canadians searching for their soulmates by opening up their farms and their hearts to a select group of urban singles. Watch Ashleigh search for Mr. Right in Farming For Love Sunday nights at 7:00 p.m. on CTV. 
TONY:
And if you're looking for a buyer's agent or someone to list you home with on BC's beautiful Sunshine Coast, I have worked with Ashleigh both pre and post her stardom and she's been excellent with every client I've ever recommended her to. And I'd say you'd be in very good hands if you chose to work with her. So thanks very much for coming on the podcast and best of luck with all your future endeavors.
ASHLEIGH:
Thank you so much for having me, Tony.

CALL TONY TODAY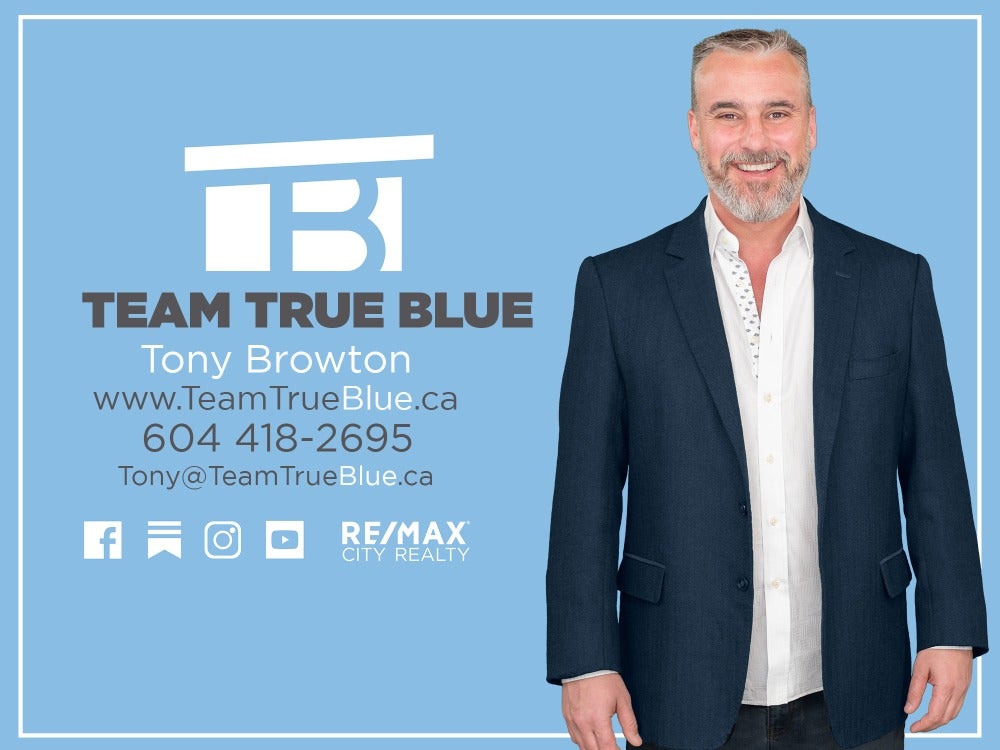 If you're not already working with an agent, call me when you're ready to buy or sell and I'll guide you through the busy and competitive real estate market on BC's BEAUTIFUL Sunshine Coast.
Tony Browton - TeamTrueBlue.ca
Personal Real Estate Corporation
RE/MAX City Realty (Gibsons)
Mobile: 604-418-2695
Email: 
Click here to email Tony
⚠️ 
DISCLAIMER:
 This blogpost is not intended to cause or induce breach of any existing agency agreement.