This post was written using a transcript from Tony's August 2023 podcast. It's been edited for clarity.
PAUL:
Tony, what steps would somebody take to sell their home with a Realtor if they haven't sold a house before or it's been a really long time and they've forgotten what the process is?
TONY:
I'd probably contact friends and family, look for recommendations. I think that's how most good Realtors kind of get their referrals. I'd also look to see who's the most prolific Realtor in the area or one of the top performers in my area. And then what most people do is even if it's a few years later, they'll phone the Realtor that they used before. And typically that Realtor, even if they've retired, will have some sort of way to forward potential contacts that come in to whoever they've referred their business or sold their business to. So they'd be the three sources of potential Realtors that a buyer or potential sellers should use.
How to interview a Realtor
PAUL:
So I find three Realtors that I think might be a fit. Do I interview them? How do I whittle it down?
TONY:
My general rule of thumb is pick three Realtors, and what I say is probably the family member that you have that just became a Realtor, call them, your last Realtor that you used, call them, and any Realtors you notice in the community that are good with marketing and does a lot of sales in your area, I'd phone them.
TONY:
Of those three Realtors, I would then interview them and see how well-prepared they are. See what they put together as far as comparable listings. Let them give you their spiel on marketing. It's quite a personal thing, selling your house. You want to go with the Realtor that you are most comfortable with, someone that's knowledgeable about your local market, and someone you feel like is a good personality match for you.
Watch out for agents trying to buy your listing
PAUL:
If I have three listing presentations from three Realtors, how should I navigate getting three wildly different valuations on my home?
TONY:
Be wary of an agent that comes in and gives you a substantially higher price that they think they can get for it and then ask you to sign a very long listing contract. This could be their strategy to secure the listing
TONY:
If a Realtor comes in and suggests a list price substantially more than the other two Realtors, that's called what we call in the business "buying a listing." So if an agent were to do that, they might feel like they're up against other more experienced Realtors or Realtors that sell more homes than they do or that are more savvy when it comes to marketing. If a Realtor struggles in those areas, they might try to buy the listing.
TONY:
Say your house is worth $1.2M. They'll come in and say, "I think I can get you $1.35M however I want to list your house for a year." If it's a seller's market, they're banking on the market catching up to the price. If it's a buyer's market, they'll slowly grind you down by saying things like, "We're getting feedback that we have to bring your price back." Over time, that will probably be effective because everything will sell with the right amount of exposure and time. But depending on what your reason is for selling the home, that may not work with what you want to do as a next step.
TONY:
I suggest keeping your listing contract short. The minimum in the Real Estate Board of Greater Vancouver is a 60-day listing contract. When I list a home, I don't do it for more typically than 60 days because if I haven't got action in that time, something's wrong. Either I haven't got enough exposure or it's priced too high.
What are the sellers' responsibilities?
PAUL:
The seller interviewed three Realtors, and picked the one that they like the best. The Realtor looks after the marketing and the pricing and the signage. What should the seller do to participate in the sale?
TONY:
Once you've listed the property, you're going to get photos and videos. And prior to getting that done, it's good to declutter and get the house tidied up. Do things that maybe you've been putting off. If you've got a squeaky floorboard, fix it. If you've needed to paint a pantry wall, paint it. A really good cleaning is recommended.
TONY:
Once you've done that, you want to maintain it. You're going to have open houses and you're going to have people coming to see the property.
TONY:
When showings happen, take off. No one likes really an owner sitting around listening to what they say. It can put off buyers from telling their agent exactly what they feel about the place.
What happens when an offer comes in?  
PAUL:
Everything goes really well, the marketing works, you get an offer. What happens now?
TONY:
When you get an offer, depending on the market, there's probably going to be subjects on it. Typical subjects are subject to financing. Subject to financing means that there's probably going to be an appraisal request. The reason they need an appraisal is because the bank will only lend on the appraised value of a home.
TONY:
If you're in a super hot market, typically the bank will use the BC Assessment as a gauge for property value. If you are buying a house for $1.2M and the BC Assessment is $1.4M, typically the bank may decide it doesn't need an appraisal because it looks like that you're buying it at a price which they're safe lending on.
TONY:
If the BC Assessment says a million bucks and you're buying for $1.4M, then the bank is going to definitely want an appraisal because they want to know what the home is actually worth. You can't overpay for a house and have the bank finance it because if you stop making the payment and the bank has to foreclose on it, they need to know they're going to get their money back.
TONY:
So the appraisal's a big one. If you get an appraisal, make sure you accommodate it. Let the appraiser in and leave if they ask you to.
TONY:
The other subject's probably going to be an inspection. And depending on where you live, there could be a septic inspection on there as well, or they might want to have a guarantee that there aren't any buried oil tanks, that kind of thing. So there's a litany of potential subjects that could be included in an offer, but the main ones would be inspection and appraisal.
Navigating appraisals and inspections
PAUL:
What if the inspection and the appraisal show that there's a problem? What happens? Does the deal fall apart? Or do both parties renegotiate?
TONY:
If the property doesn't appraise out high enough, the buyer could decide to come up with more of a down payment to cover the spread between what they're wanting to pay for the place and what it appraised at. Or the buyer could potentially go back to the seller and ask for a reduction in price so that the bank will finance it and move on from there. That's rare for that to happen. I've maybe seen that a couple of times out of hundreds of transactions, and that was only with B lenders.
TONY:
What does happen from time to time is the inspection comes up with what's considered a material latent defect. That could be anything. It could be that there's bats living in the attic, or there's a leak in the roof.
TONY:
If the inspection comes back and says, "Here are three problems." If the problems are substantial, the buyer might feel justified in asking for a price change because it's a material latent defect. They can ask for a price change or they can ask for the seller to fix the problem prior to completion. It could go either way. And depending on how serious it is, if they ask the seller to fix it, the buyer could say, "We're going to do a holdback on completion for this amount of money just until we verify that this was done correctly." That's how a building inspection could result in a potential price reduction or the seller having to fix something prior to completion.
When is a house considered sold?
PAUL:
At what point is a home sale binding?
TONY:
The sale is binding once the buyer removes their subjects and pays the deposit. Once the deposit is held in trust, it's a binding deal. That's when you see the signs go up and then that gets reported as sold. Now touch wood, out of the hundreds of transactions I've done, I've never had one go sideways once the deposit's been paid, but that can happen. But typically once the subjects are removed and the deposit's paid, it's a firm deal.
Can the seller leave furniture behind?
PAUL:
The deal goes firm. The seller has to get ready to move out. What condition do they leave the house in when they leave?
TONY:
The normal convention is for the house to be clean. So that means, the seller either cleans it themselves, or in a lot of cases, the buyer's agent will put in the contract that the seller agrees to either get the property professionally cleaned or to clean it to a professional standard prior to leaving.
What if there's junk left at the house?
PAUL:
What happens if the seller leaves something behind at the property after they've moved out?
TONY:
The contract typically asks for something called vacant possession. Vacant possession dictates that no rubbish or personal debris is to be left behind. But people still leave junk behind. In some cases they just don't want to move it, or they'll say, "The new owners could probably use a bed," and just leave furniture or large items behind. But ultimately, the contract stipulates that the home is meant to be left clean.
TONY:
If sellers don't leave the home clean or they leave stuff behind, they risk incurring the expense and cost to have the items removed. This includes actual physical expense or emotional distress. Anything that results from the seller not fulfilling their obligations in the contract, they would then be liable for that.
TONY:
For example, if there was a holdback, and the seller agrees to do something but then doesn't do it, after a certain amount of time that would be detailed in the contract and then worked out by the conveyance lawyers, the seller would lose whatever the cost was that was being held back.
TONY:
If there was no holdback and the seller just didn't clean the home or left a bunch of stuff behind, then the option would be for the buyer to sue the seller and take the matter to small claims court to recover expenses. This happens all of the time.
TONY:
If you're a seller and you don't do what you're supposed to do and you do get sued, your Realtor will be called in to testify. They'll be asked under oath what you were meant to do and your Realtor will tell them if you didn't hold up your end of the bargain. It's very rare that someone can get away with it once they get sued. It's much, much easier to do what you're supposed to do when you're moving out. That being said, a lot of sellers don't, and that's one of the reasons Realtors have gray hair.
When does the seller get paid?
PAUL:
When the house has sold, at what point does the seller actually see money?
TONY:
When the subjects are removed and it's a firm deal and the sold sign goes up, that's subject removal date. Between that date and completion date is when sellers have to pack up and do their cleaning. Once you hit that completion date, the lawyer for the seller and the lawyer for the buyer communicate. The lawyer for the buyer says, "I've got the cash for the house," and the lawyer for the seller goes, "I've got the title." They do a handshake and the title gets transferred to the new buyer and the money goes into the account of the lawyer or the seller. That's the day that sellers get their money.
TONY:
The possession and adjustment date is the next important date. It could be the day after completion, or it could be a week later depending on how the contract's written. The adjustment date is when stuff like if you've prepaid rates or utilities or property taxes or strata fees are figured out. The lawyers figure out which party gets credited or debited for what and then make adjustments to make sure money goes where it's supposed to.
TONY:
The money that the seller gets has fees deducted from it by the lawyers. This is things like their lawyer's fee, Realtor commission, and brokerage fees. Any other things that need to be paid like deferred taxes also gets paid out of that. And then the seller ends up with a statement of adjustments which details all of the expenses and what they end up getting as a cheque or deposited into their bank account.
A good lawyer is a must
TONY:
I have a lawyer that I recommend all the time. It's really important to use a lawyer that's experienced in real estate conveyance. It's especially important if you're selling a house for a third party. Something like you're an executor for an estate or someone's passed away and you're waiting for probate. Probate in BC – and I'm assuming it's similar in other parts of Canada – it's really important to have a lawyer that knows what they're doing. I've had experiences in the past where I've been selling a house, the executor has used a lawyer that's a family friend to do probate. Probate gets screwed up numerous times, and in this particular case, it delayed the sale for 18 months.
TONY:
My clients had an accepted offer, and it was just subject to probate. Which means it's up to the seller to remove the probate subject. The sellers hired a lawyer that didn't know what they were doing and the sale was delayed for so long that interest rates changed and these buyers could no longer move forward with the purchase. I think it ended up costing the executor about 15% of the sale price because by the time the lawyer got through probate correctly, the market had changed. The sellers missed out on a bunch of buyers in the meantime.
TONY:
As much as it's important to work with an experienced real estate agent that understands your market, sellers need to work with other equally qualified professionals.
Hopefully your Realtor has a team which has other professionals that you need throughout the sale process.
Pros can accomplish what needs to get done to be able to close the deal.
TONY:
Realtors are only really one part. We do the marketing, we get you the exposure, we hopefully get you the offer that's good for the house and allows you to move on to that next step in your life, whatever that is. But in the same way, you really do need to make sure you've got other professionals working with you that are competent in their respective fields because a real estate sale can get tripped up for numerous reasons. That's why a good lawyer is really important.
TONY'S AUGUST LISTINGS
1127 Malcolm Creek Road, Roberts Creek, BC
TONY:
I don't always have fantastic deals, but I do this month. We've just dropped the price of 1127 Malcolm Creek Road, which is a brand new, six-bedroom, four-bathroom split up into an upstairs/downstairs legal suite situation. It's situated on over an acre in beautiful Roberts Creek and has been dropped down to $1,599,000 including GST.
TONY:
You could not buy the land and build it for that amount. It's a quality build by Clark Hamilton. It's an absolutely gorgeous home, and I don't know how much longer it'll be available. I've just dropped the price and I've already had four or five showings. It's a steal of a deal.
TONY:
So if you're looking for a great deal, regardless of what the market's doing, regardless of interest rates, it's an absolute must see and you should call your Realtor and get in there to have a look at that one right away.
PAUL:
It's a gorgeous home. And when we talk about a suite in a house, I think people have a preconceived idea of what a suite should look like. But this one has high ceilings and lots of windows. The entrance is a covered walkout basement with a big concrete patio, with easy access to the yard. If you have a big family, or you just want a lot of space, you could easily use the entire home. But if you do have frequent guests or your parents are going to live with you, or you want to rent it out as Airbnb or as a mortgage helper, the downstairs is a perfect fit.
302 Shoal Lookout, Gibsons, BC
TONY:
In addition to that, we have a few really great deals up on the Bluff in Gibsons on Shoal Lookout. We have 302 Shoal Lookout, which is a great lot. It's been on the market for a while. It did get tied up by a potential buyer that wanted to build, but unfortunately with the recent interest rate hikes, he couldn't get his financing together. So that means that one's available again. Really easy build, and lots of money already invested in getting it ready to build.
301 Shoal Lookout, Gibsons, BC
TONY:
Across the street from is a gorgeous log home I've mentioned previously. That one's primed, ready for move in. We've had a lot of interest in that, but amazingly it's still available at this time.
317 Shoal Lookout, Gibsons, BC
TONY:
And then just up the road is 317 Shoal Lookout. The old adage about buying the worst house on the best street is probably fitting in this case. It is a solid home. It's got good bones. But it does need some TLC. It needs a reno, but it's on an excellent street with great views. It's really a good opportunity for someone looking to get into the market. And we just dropped the price of that one down to under a million dollars, so well below tax assessment. We're getting ready for the right buyer to come along there and the sellers are motivated. It's an estate sale, so they're looking to sell.
PAUL:
I love Shoal Lookout. It's a quiet street. It's got great views, beautiful houses. And if you wanted to live on the Bluff or specifically on that street, there's really no excuse not to get into that market right now because you've got all three property types to choose from.
PAUL:
If you want a beautiful, move-in ready property, there's the log home. If you want to have your own brand new dream home, there's an oceanfront lot that's ready to go. And if you're looking for something where you can build some sweat equity and do your own fixes or renovations, there's a home that's there ready for a DIYer. Every property class is represented right now on Shoal Lookout if you want to move into that neighbourhood.
TONY:
Beyond that, we do have a bunch of new listings that are going to be coming up in Lower Gibsons. These are properties that we're bringing on and that are priced appropriately given the current market. Watch this space if you are looking to invest or looking to get a good deal on BC's beautiful Sunshine Coast and hopefully the right place will pop up for you.

CALL TONY TODAY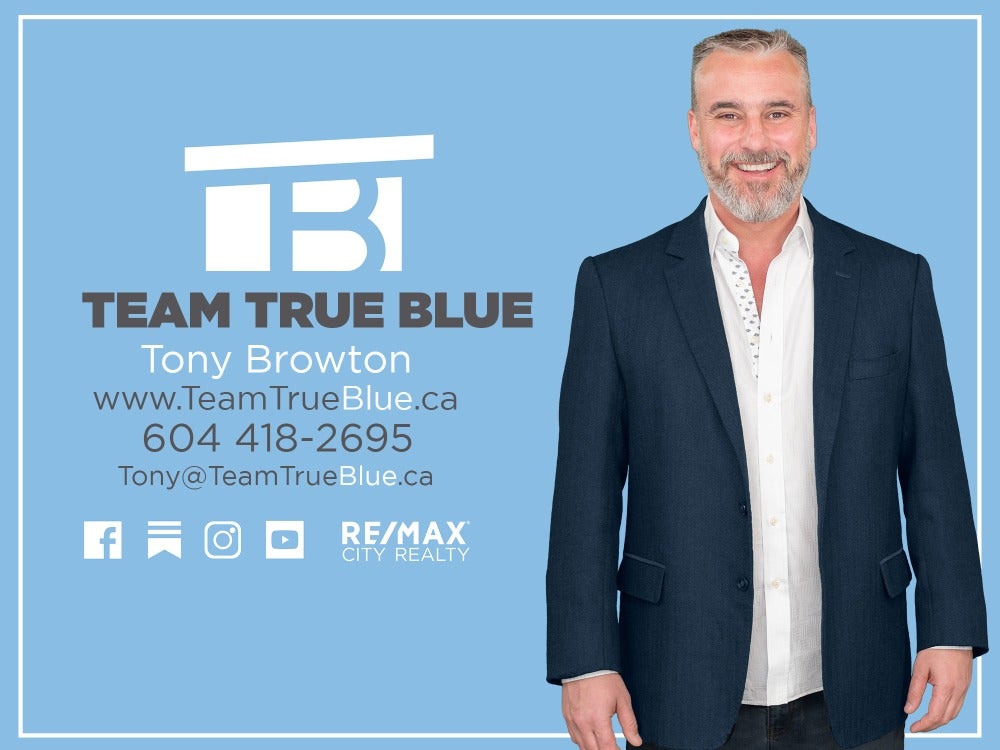 If you're not already working with an agent, call me when you're ready to buy or sell and I'll guide you through the busy and competitive real estate market on BC's BEAUTIFUL Sunshine Coast.
Tony Browton - TeamTrueBlue.ca
Personal Real Estate Corporation
RE/MAX City Realty (Gibsons)
Mobile: 604-418-2695
Email: 
Click here to email Tony
⚠️ 
DISCLAIMER:
 This blogpost is not intended to cause or induce breach of any existing agency agreement.